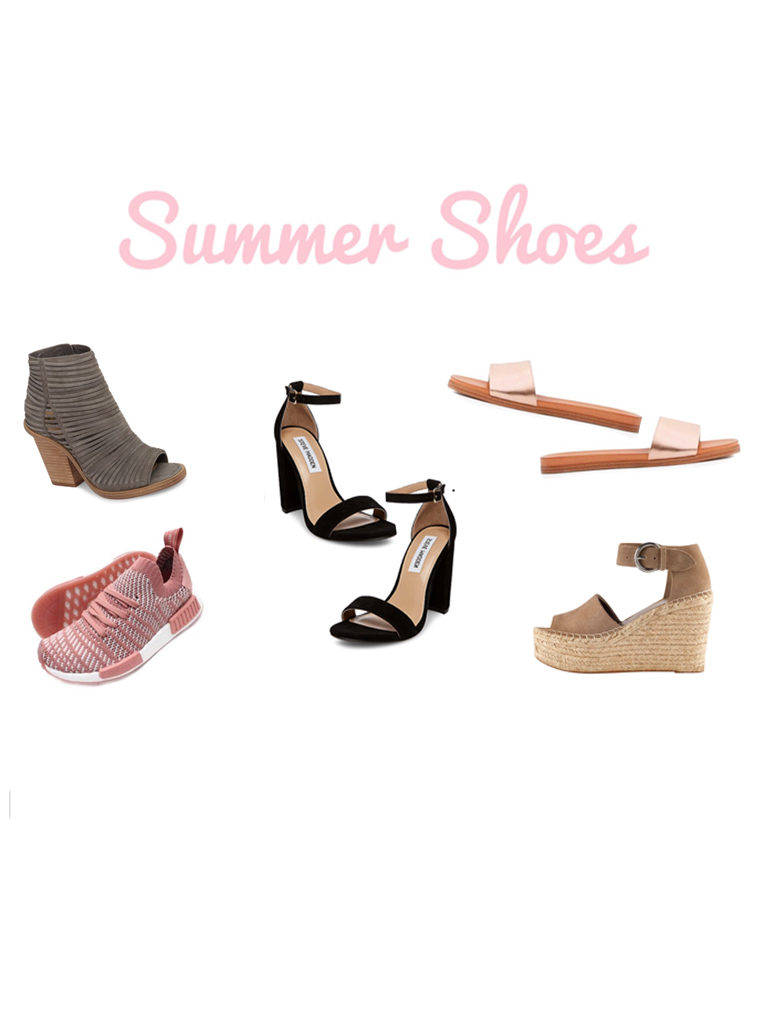 Fashion
Top 5 Summer Shoes
June 19, 2018
Here is a list of the top 5 style of shoes you need to get you through summer.
I love love love shoes…so this is probably one of the most challenging things I've had to do….narrow down my picks to only 5. But I really looked at what shoes I would bring if I was heading on vacation…and what shoes get the most play in my collection.
1. Sandal Bootie – Vince Camuto Feteena Bootie Nordstrom
The nice thing about these booties is you can wear them from Spring to Fall. This is something you really need to think about when living in Canada…how many seasons can I wear them. I love the grey color simply because it matches with everything. These booties look amazing with cut of jeans, a cute romper or even a cute dress. They really remind me of something you'd see at a music festival like Coachella. I also love that they're so comfortable so if you know you're hitting the town and walking is going to be involved these are a sole saviour.
2. Cute Sneakers – Women's Primeknit Shoes Adidas
Let's face summer time means lots of sightseeing and outdoor activities which mean lots and lots of walking. So why not save your feet and opt for a cute sneaker like these Adidas boosts. At first, I wasn't too convinced but after my boyfriend raved about his male version I decided to try the women's boost out for myself…and I was not disappointed. I get so many compliments wearing these sneakers whether I'm walking around town doing errands or at the gym. They're honestly the comfiest sneakers I've owned…it feels like your walking on clouds! And because they're cute and stylish you can wear them with leggings, rolled up jeans or even shorts.   A definite must if you'll be walking around for hours checking in the sites.
3. Sexy Sandals – Carrson Sandals Steve Madden
Ok I'm not going to lie…I have these shoes in three colors…black, beige and red. They're honestly a staple in my summer closet and one color always comes with me on vacation. I love the simple sleek design of the sandal and the block heel just adds so much more comfort than a skinny version. They still look sexy on your foot even though the heel is chunky, and I love how thin the ankle strap is helping those with thicker or muscular calves. I've worn these for many occasions including nights out with friends and even worn them to weddings. They match with everything…pants, jeans, skirts, dresses, bodycon…and with a 4 inch heel they also add great height.
4. Slide – Fabrizzia_U Aldo
The look simple and maybe you're thinking boring…. but the truth is these slides are just so lightweight and versatile you can't afford not to buy them. This classic slip on silhouette is perfect for all your needs…not to mention slides have been another huge trend this season. They're so easy just to throw on if you need to head out in a hurry and the metallic color is so versatile it literally goes with anything. If you're heading on vacation these are also perfect to throw in your carry-on and can be worn anytime of the day.
5. Espadrille Wedges – Adalyn5 Marc Fisher
I bought these last year and they're still going strong and one of the hottest trends still this summer. The beautiful thing about these wedges is they give great height, are comfortable, versatile and stylish. Pretty much every trend setter and blogger own a pair or version of. I love this particular brand for the comfort and simplicity. The braided jute around the platform wedge with the eye-catching ankle strap makes this the perfect sandal to wear all summer long day or night.