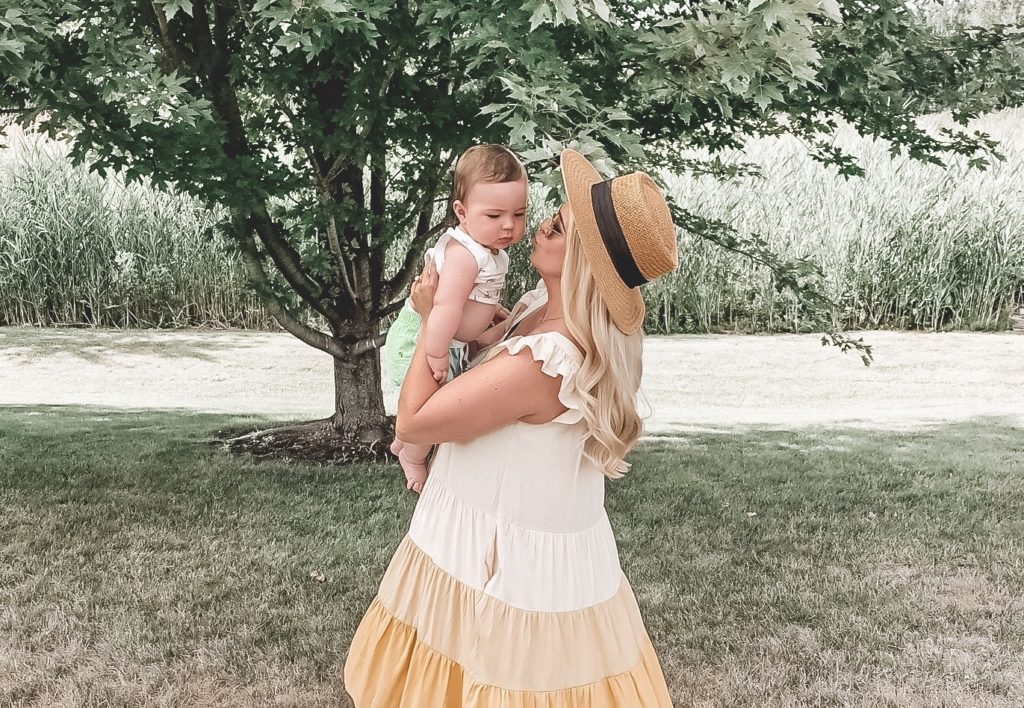 Baby/Mom Life
Fun in the Sun with Baby and Mom
July 31, 2020
Summer is my favourite time of the year. I love the warm weather and the hot sun. But this summer is looking a little different than most, and not just because of the pandemic. As a first time mom I wasn't too sure how much time I would be spending outside this summer with a baby…but as I've learnt there are plenty of ways to get outside enjoy some vitamin D and keep your baby safe.
Sunscreen
First things first sunscreen. I would never go outside in the sun without my sunscreen…and neither does Luca. Now that he's 7 months old our doctor has approved that he can wear sunscreen. I usually only apply it to his arms and legs, places where he may get a little sun exposure. My go to sunscreen for both Luca and I is Sunthera3. I discovered this line last summer and have been obsessed with it ever since. Sunthera3 literally has something for everyone, sensitive skin, wet skin, kids, babies and my personal favourite the SPF 60 Face Stick. This sunscreen is so easy to apply and perfect for a mom on the go. The easy stick format application means, I don't have to touch my face with my hands to apply which is especially handy if I'm out and about. I also love their SPF 60 Baby Sunscreen for Luca. It's water resistant and offers both broad spectrum UVA and UVB protection. It's also hypoallergenic and dermatologist tested so it's a great option for your little one.
Popsicles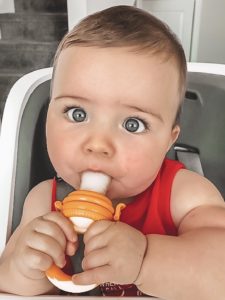 Who doesn't love a nice cool treat in the summer including Luca. Popsicles are his favorite snack and as soon as he gets sight of the yellow and orange feeder…his hands are out and he's begging for it. My favourite feeder is the Nature Bond baby food feeder and there are so many reasons why this one is in my opinion the best. I love that this feeder is made with food grade silicone, it's so easy to clean and I don't have to worry about bacteria getting trapped inside. This is a great way to feed your baby fresh fruits and veggies and also a great way to introduce your baby to solids without the worry.
I love to add all sorts of fresh fruits, veggies, purees and even frozen breastmilk to the feeder and freeze it for Luca to enjoy as a nice cool treat on a warm summer day. Not only is it refreshing it also aids his teething gums and this seems to be the only teething feeder he'll actually use. The vibrant colours are fun and attract Luca's attention as soon as he sees it he's instantly reaching for it…the circle holder also makes it really easy for him to hold and use himself. I also love the twist and turn mechanism that can't be found on other feeders meaning he gets every last drop. The feeder comes with different silicone sizes perfect for different ages, and is a two pack so perfect for twins or just as an extra; they offer free shipping all year round…what's not to love!
Momsicle
Mom needs a popsicle too right….or maybe just a nice cold adult beverage. One of my new summer favourites is the Hibiscus Lemonade by Well. This beverage is refreshing, not too sweet and tastes like delicious sparkling lemonade. Only 90 calories per can, made with organic Hibiscus, organic lemon juice and organic vodka. One of my favourite ways to enjoy is on ice with some frozen lemon slices in my cooler cup. It's also Canadian made and cute to look at!
Splash Pads and Tents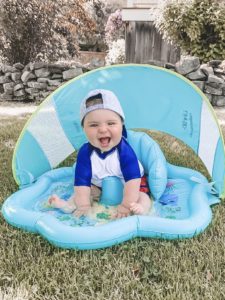 Luca loves the water, so I love throwing a baby pool party for him in the afternoons. I bought this cute splash mat and am obsessed with it for a couple of reasons. It's super portable and easy to assemble, we've used this on our patio, under a tree in the park and pretty much bring it with us everywhere we're going to be outside. I also love that it has a blown up seat rest to prevent Luca from falling backwards and a blow up cone in the front of him to prevent him from face planting in the water. I also love that it has a UPF 50 sunshade to block the sun keeping him protected from harmful UV rays. Another great way to get outdoors is with a UV sun tent. There are so many cute and stylish ones out there and my personal favourites are these funky ones from Indigo. They're perfect to enjoy in the backyard, at a splash pad or on the beach, they're easy to assemble and foldup to be completely compact.