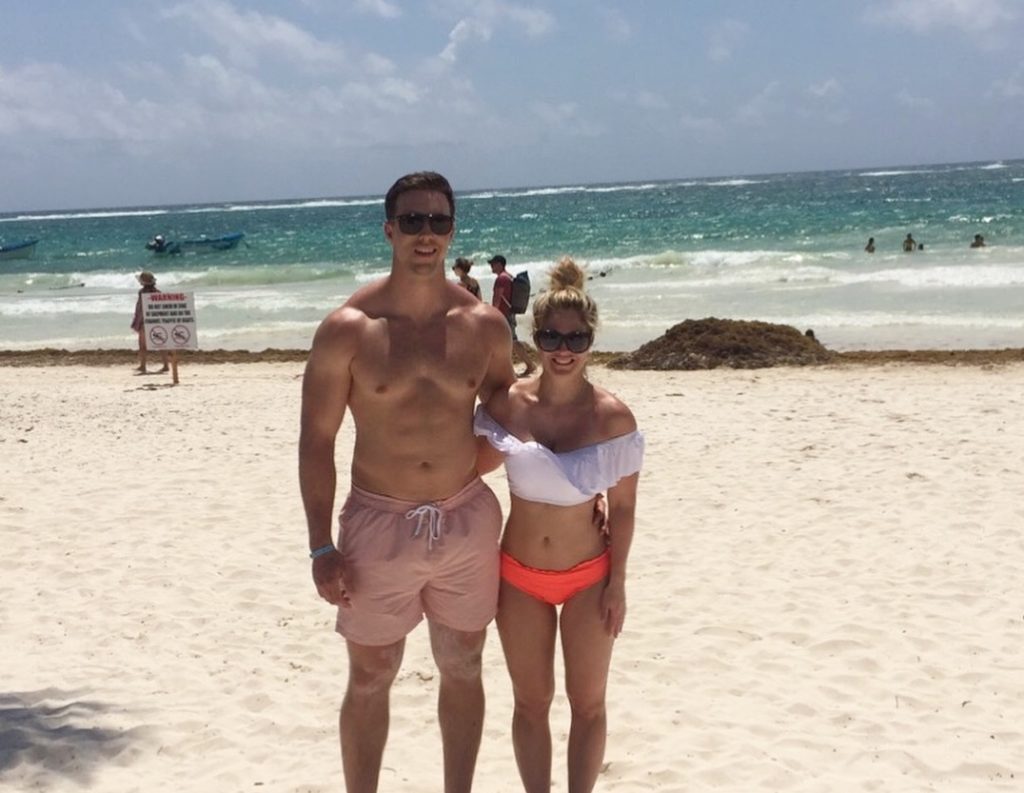 Travel
Mexico Trip
June 19, 2018

Yes that's right we went to Mexico and we're ok! I know what many of you are thinking why would you go somewhere there is a travel advisory. Well we wanted to get away from the winter and we wanted to go somewhere affordable that has good food…so Mexico it was.
We decided not to do the typical charter all inclusive this year only because we found it was cheaper and more conveiniter to book everything separately. We found an amazing deal with Air Canada direct from Ottawa to Cancun direct for under $500 return. We couldn't pass up this deal and we're so glad we didn't. It was nice to board a flight that had a lot less travellers than a typical charter, and it was also nice to have the extra leg room in the cabin that we didn't even have to ask for an exit row. Nigel is 6"5 so extra leg room is key for him to be somewhat comfortable. We loved that when we arrived outside the airport we didn't have to wait for a shuttle and were able to take our own transportation to the hotel and get there in fashionable time.
Resort
We stayed at the Platinum Yucutan Princess and what a beautiful resort. It was clean, and well equipped for a 5 star resort. It was the perfect mix of relaxation and fun. The Platinum side is a lot quieter than the other sections of the resort….but we were ok with this as we were looking to relax and recharge. Our room overlooked the pool and everyday we had no problem finding a cabana poolside with extra chairs. The wait staff at the pool were fast and efficient and came around frequently. On Saturday's there is a foam party at the pool next door….this seemed to be a highlight for a lot of people we talked to…although we missed it…oppsy!

Food
The food was great, and one thing we really loved is the a la carte restaurants were walk in so you didn't need to wait in line on your first day there and make a ton of reservations. They also try to make beautiful creations and work of art with their food and are very proud of their work. Tao is the only restaurant where a reservation is needed…but we had no trouble making one and the food and show is excellent. If you love entertainment the Fire show is a definite must, we were blown away from start to finish.
Beach
It was seaweed season while we were there so we didn't swim in the ocean too much. However the beach at the Grand Princess which is directly next door and you have full access to (yup drinks and food) and is much better kept. The seaweed is limited and they have lifeguards on duty if you're looking for assistance.
Playa Del Carmen
We took an evening trip into the town of Playa Del Carmen and we wished we would have done it sooner. We absolutely loved the liveliness and the overall vibrancy of this cute town. We took a taxi into the village and arranged to meet him for the ride home at a certain time which he did with no issues. We felt completely safe while touring around. There of course is trouble I'm sure if you're looking for it….but we just went to shop, walk around and try amazing pina coladas. The shopping on 5th avenue is pretty amazing. You have all of the big North American shops mixed in with a bunch of local stores and boutiques. We ate at a wonderful restaurant wich our cab driver recommended and had delicious seafood dishes and margaritas. Then we went to a beautiful rooftop for pina coladas and an amazing view. Live Aqua we fell in love with this charming boutique hotel in the center of the town. With an amazing rooftop pool overlooking the ocean and city, definitely worth checking out if you're in the area.
Overall we had a wonderful time in Mexico, checking out Tulum and Playa Del Carmen were definitely our highlights of our vacation….and this made us decide that as much as we love the ease of an all inclusive vacation…we're up for a little more adventure next time. Where to? Who knows….any ideas please let us know!