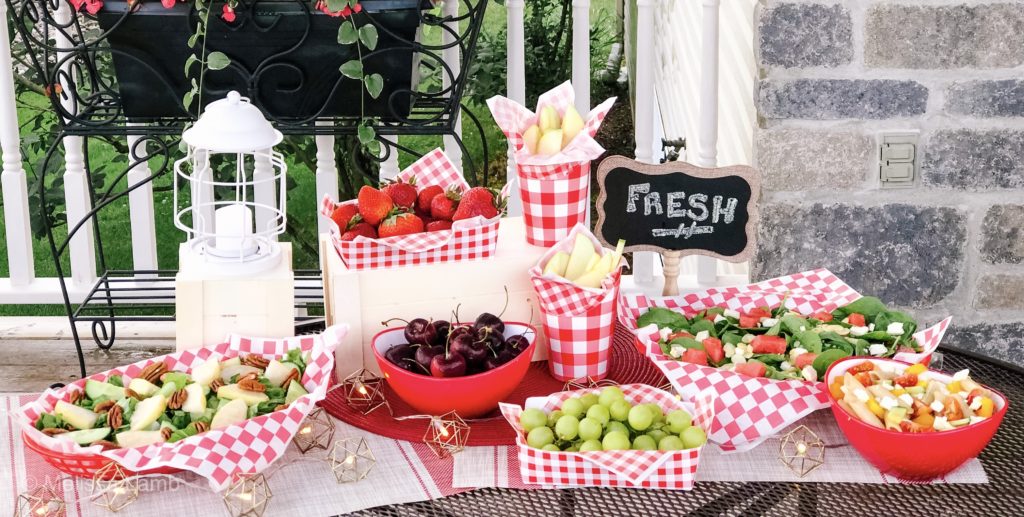 Food
Summer Entertaining on a Budget
August 2, 2019
Planning a summer garden party, BBQ, or picnic can seem like a lot of work….and too much added stress…but it doesn't have to be if given the right tools.  Here is my complete guide to helping you feel less stressed when it comes to planning your party.  Walmart! It's a one stop shop for all your needs…. from food, to plates, sunscreen and bug spray you can find everything you need at Walmart.  I started online grocery shopping a few months ago while I was newly pregnant. The thought, smell or look of food pretty much made me nauseous so shopping online became my go way to shop and I instantly became hooked.  There are so many advantages to grocery shopping online.  First, I find myself spending a lot less money!  I only buy the things I need and not the things I want. I can do it from the comfort of my home which also means I don't have to guess if we need something or not…. I can simply open the fridge and look and then I'm only buying what I need and not having half my groceries go to waste.  Walmart also has the best prices so I'm saving money while I feed our growing family.  They also do the heavy lifting for you….picking out your groceries and even bringing them out to your car when you pull up to the designated pick up spot….saving you time in your busy day.  Did I mention it also means you don't even have to get the kids out of the car…look for a parking spot….or a cart!  And with their freshness guaranteed program their staff are trained to pick out the freshest produce and products possible and if it's not to your satisfactory you can return your items.  So with my online grocery shopping done here are some of my favourite items to pair with your BBQ.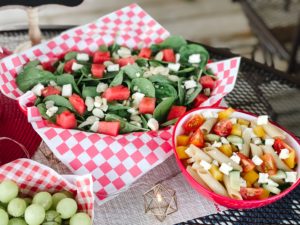 Summer Spinach Salad
-package fresh spinach
-watermelon
-crumbled goat cheese
-slivered almonds
-balsamic dressing
This is so easy to make and is absolutely delicious.  Toss the spinach in a bowl or serving dish.  Add cubed pieces of watermelon or any other fruit you desire.  Also pairs well with strawberries, blackberries, or blueberries.  Add the crumbled feta, a few slivered almonds, your balsamic dressing and you have an easy delicious summer salad to wow your guests.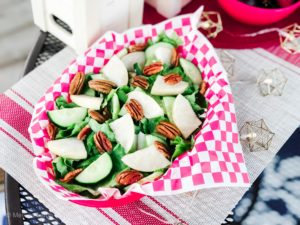 Pecan Pear Salad
-romaine lettuce
-1 Asian pear
-halved pecans
-feta cheese
-cucumber
This is also just as easy to make but offers a different taste for those who prefer leafy greens over spinach.  Wash, dry and chop romaine lettuce into a bowl or serving dish.  Slice one Asian pear into small quarter sections and place over the romaine lettuce.  Add crumbled feta, diced cucumber and pecans to the top.  I usually serve this salad with a poppy seed dressing.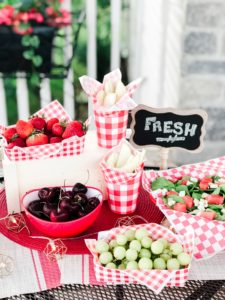 Summer Pasta Salad
-penne pasta (we use gluten free)
-cherry tomatoes
-yellow pepper
-cucumber
-feta
-balsamic dressing
Boil the pasta until cooked then let cool in cold water. We use gluten free penne pasta but any sort of pasta does work with this recipe.  Once pasta is cool, add in cherry tomatoes cut in half, diced yellow peppers and cucumbers, and lastly add in crumbled feta to the top.  For the dressing we use homemade balsamic, mix and serve.  Its sure to be a hit.
Balsamic Dressing
– ½ cup olive oil
-¼ cup balsamic vinegar
-1 fresh garlic clove pressed
-1 tsp maple syrup
-salt and pepper to taste
Mix all ingredients together until combined…. sometimes takes a little time to mix the oil and vinegar. Add the salt and pepper to taste as per your liking. And enjoy!