Food
Bacon Gruyere Egg Bites
December 31, 2018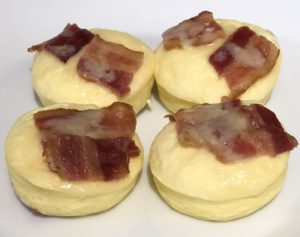 So I think I speak for most of us when I say I'm obsessed with the Starbuck Sous-Vide Bacon Egg Bites…and I could honestly eat them everyday!!! So we recreated them…and I must say they're darn good…same flavour, size and fluffy texture. Instead of using our sous-vide we actually prefer to cook them in our egg-poacher…way easier and less time. We did try them in the sous-vide a few times but we felt they took too long to cook (hours) and were annoying using mason jars in the water, so we found an easier alternative with the egg-poacher  which you can find everywhere!
---
 What you'll need
4 eggs
4 strips of bacon cooked
4 tbsp of Cottage Cheese
¼ cup Monterey Jack Cheese
¼ cup Gruyere Cheese
¼ tsp salt
---
Directions
Add the eggs, cottage cheese, both cheeses and salt to a blender and liquefy.  You should have a nice frothy creamy mixture.  Start the egg poacher on medium heat. Add a small amount of butter or oil to the egg poacher cups.  We also add a few small strips of bacon to each cup.  Add the egg mixture on top of the bacon.  This recipe will make 8 egg bites, but we typically double it since they stay fresh and refrigerate well and Nigel also eats about 6 for breakfast.  Cook for 12-15 minutes until cooked throughout.
Enjoy! Xx