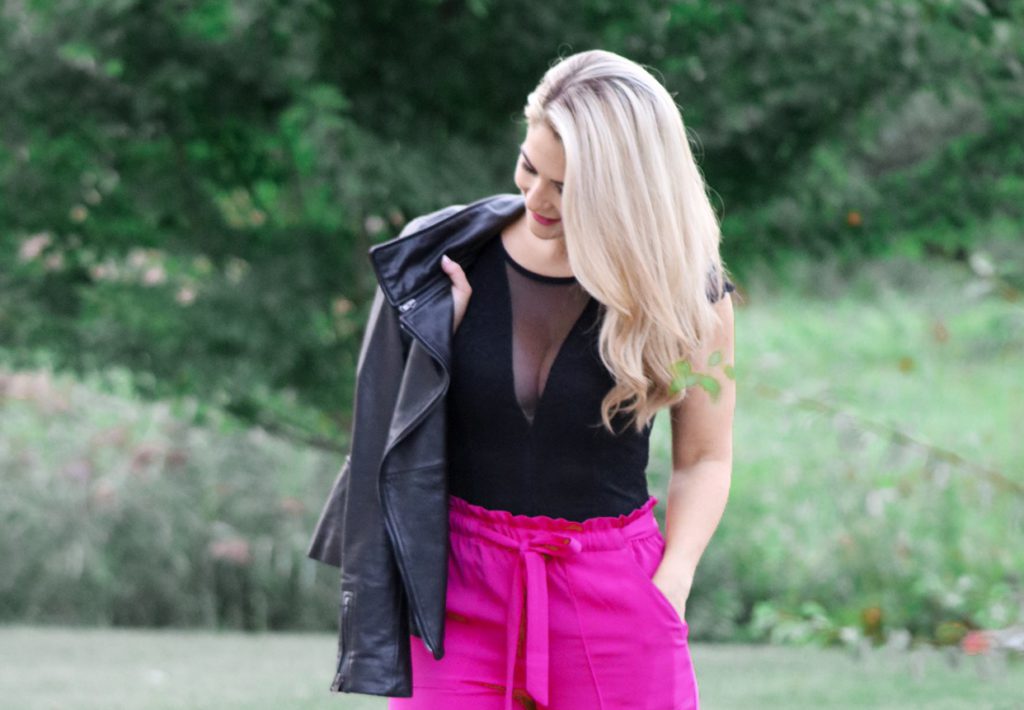 Fashion
Transitioning to Fall
September 20, 2018
Say it ain't so….summer is almost over…but that doesn't mean you have to retire your favourite summer pieces just yet!  Good news there are plenty of warm "summerish" days left….which means there's still time to wear that favourite piece by mixing it up with some fall trends.  Here are a couple of my go to summer outfits and how I've transitioned them into my fall wardrobe with pieces from my closet.
Jean Dress – Dynamite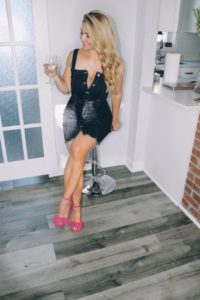 As soon as I saw this dress I knew it was going to be a staple in my wardrobe…first off, its denim and second the cut is just so fabulous and can be worn so many different ways.  I wore this dress all summer long with cute heels, flip flops and even sneakers.  Since it's sleeveless it's a little cool to wear right now alone but I can definitely still get some wears out of it by throwing a long sleeve shirt or bomber jacket.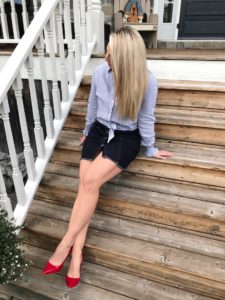 To complete this look,  I paired my denim dress with this smock sleeve shirt from Joe Fresh which was also a summer favourite and threw on a pair of my favourite red pumps which are also a huge trend this fall.  If it was a very cool morning I would also throw on a cute bomber jacket overtop, or even a long sleeve oversized cardigan.
Polk a dot Mesh dress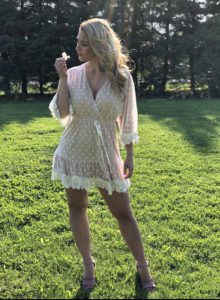 I wore this dress a lot in early summer especially if I was going out at night….believe it or not it was a little hot for those extremely humid days we had this summer.  I still like to wear this dress now because it has ¾ sleeves it's not too cool for this time of year.  In the summer months I often wore this dress with cute wedges or heeled sandals…but to keep it looking more fall appropriate I now pair it with cute open toe booties and an oversized scarf.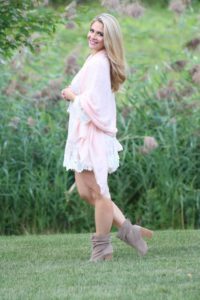 These booties are great for transitioning summer dresses…since they're open toe it still feels like you're wearing sandals however the bootie makes it look more appropriate for fall.  Light oversized scarfs like this one from Joe Fresh are also key…as you can wrap it around your shoulders as a shawl when it's cool…. or around your neck in the afternoon when temps are a little warmer.
Hot Pink Pants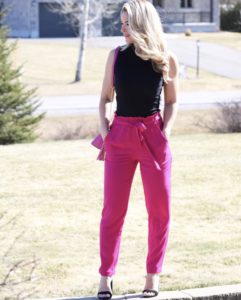 These pants were such a hit all summer long…and still are.  During the summer I often paired these pants with a bodysuit tank top and open toe sandals…. but now that its cooler I've paired it with a lace bodysuit with sleeves a black leather moto jacket and black pumps.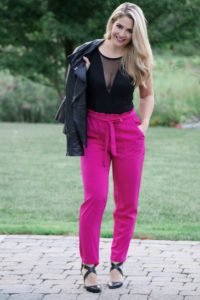 I love the look of a black leather jacket….it just makes everything look a little edgy…. but If you don't have one a black blazer, or faux suede bomber will also do.  By adding the black pump instead of the open toe sandal, it just adds more of a fall vibe to the look.  I also love the lace bodysuit as we head into fall…. especially mixing leather and lace it always looks sexy to me.
Great fall transitioning items to look for.
Jean Jacket – right now distressed oversized denim jackets are in style.  But I'm still ok wearing my smaller more fitted Levis version from many years ago.  That's the thing about a jean jacket it's a great investment piece and you really can't go wrong with one.  I love the look of paring it with a cute summer dress like here.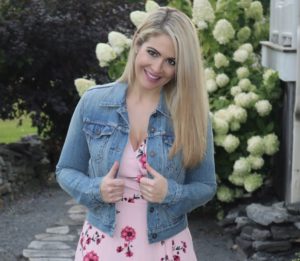 Oversized cardigan
Also, a great piece to layer over jeans, pants, dresses or anything.  It's nice and warm and cozy so will get a lot of wear in your wardrobe as you can bring this into your winter wardrobe as an extra layer for those bitter cold days.
Bomber Jacket
We've seen a lot of bomber coats over the past few years and they're still going strong.  I love a classic look so wear over cute dresses or with pants to add a little style and warmth on the cooler mornings.
Booties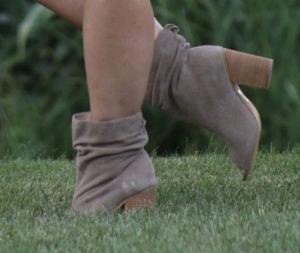 I love booties for this time of year. I own both open toe and closed toe versions.  If I'm heading out morning into the afternoon, I'll gladly wear my open toe booties with almost everything until snow hits the ground.  They match with dresses and pants and still keep your outfit looking appropriate since it's a bootie, but just has a nice open toe. I also love closed toe versions especially for those cool fall nights…a bit warmer than having your toes exposed.
Scarfs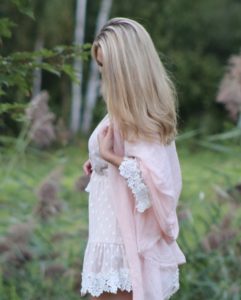 I love scarfs and have so many colors, shapes and textures.  It can instantly change an outfit but also add a little extra warmth when needed.  I love having a neutral light-colored scarf in a light material that's oversized. This will help add warmth as it can be used as a shawl or scarf.