Fashion
Stylish and Affordable Maternity Fashion with Walmart
October 18, 2019
Styling your bump doesn't have to break the bank….nor does it have to sacrifice style thanks to the wonderful maternity line at Walmart! I've enjoyed finding quality maternity pieces, for a fraction of the price that are both comfortable and stylish.  It's also a great place to find affordable trendy non maternity styles and mix and match them with your maternity wear! Walmart maternity apparel is now available at 199 stores across Canada, and available online making it nice and easy to access wherever you live!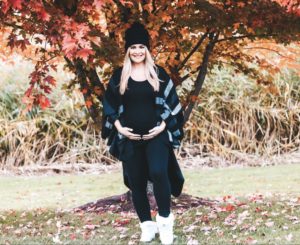 When it comes to maternity fashion I suggest to start with buying items that are closest to your skin. Think leggings, tanks, tee's, dresses and intimates. Anything that touches your skin directly or your first layer of clothing.  Maternity musts are leggings with the full high waisted panel, and a great pair of jeggings. Start with a dark denim blue or black wash that way they can be dressed up or down….you'll get a lot of wear out of them from day to night.  Here are a couple of my favourites.  I bought the leggings in black and grey, and the jeggings in this dark wash blue.  There are several different style options available but I personally I love the full panel for support and comfort….I'm honestly not sure how I'll go back to regular jeans after!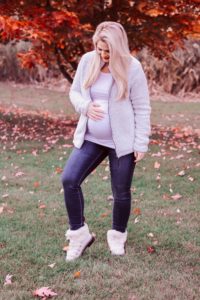 Tops are also a must when it comes to maternity staples.  I love layering clothing, especially while pregnant since your body temperature fluctuates so much it's nice to have options to remove a layer.  Great basics are tanks and t-shirts.  I bought both these style maternity tanks in black and white and find myself wearing one of them almost everyday.  Great t-shirts like these are also wonderful for everyday wear and the tummy ruching means it'll grow with your bump and you don't have to worry about length since its cut a little longer.  A cute simple dress is also good to add to your maternity wardrobe especially if you work in an office.  Not only is it cute and a great basic it's also so comfortable on your body when you don't feel like wearing anything tight or pants.  Walmart also has great maternity undergarments like nylons and nursing bras which are super comfortable and wire free!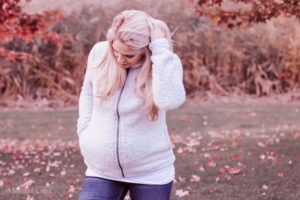 Now that you have your maternity basics covered there are a lot of other great affordable options available at Walmart that are non maternity that you can wear now and transition back into your normal wardrobe. Things like shawls and ponchos that are one size fits all are a great fashion accessory, it will keep you warm, looking trendy and also cater your growing bump. They're also great timeless pieces you can easily work back into your regular non maternity wardrobe next year.  Other great options are this stylish sherpa coatand for under $20 you can't go wrong as it seems every fashionista has one in their wardrobe this season.  I sized up to fit my growing belly, but the nice thing is this sweater can be worn oversized making it easy to transition it into my fall wardrobe next year.  It's also the coziest sweater around!  Open sweaters are also great as they help keep you warm with the cooler temps but also keep you looking stylish as they're also a hot trend year after year.  Walmart has so many great quality ones, in so many different styles and colours at great price points that you can't go wrong…pair it with a cute scarf to keep you extra cozy. With a focus on cozy comfort that doesn't compromise style, Walmart apparel has played a key role in my maternity fashion this fall…and at everyday low prices you don't feel guilty about shopping to fit your temporary bump!