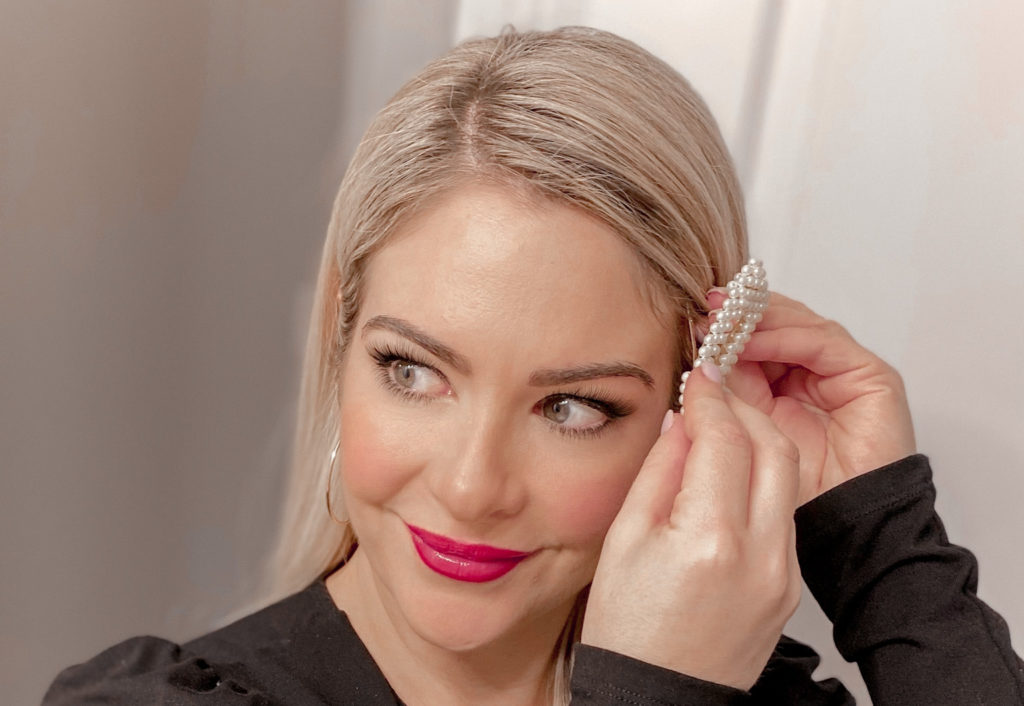 Fashion
Virtual Party Holiday Glam
December 22, 2020
December, the month of get-togethers!  From office parties, to pub lunches and festive cocktail gatherings, tis the season where everyone feels like a socialite…until coronavirus pandemic!  Christmas festivities almost obsolete this year, many being cancelled others trying to transform online, while limiting gatherings from 50…to 10…to 4…who can keep anymore.  While your plans maybe up in the air one thing we can be certain of, is festive fashion is here! And while your Christmas parties might be looking a little different it doesn't mean your festive glamour has to be. If you're looking to add a little razzle dazzle to lift your spirits, here are some tips to add a little or overload the glamour this Holiday season!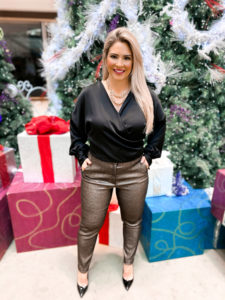 Everyday Glam – Silk & Metallic – Dynamite
Looking to add a little glamour, but still want to keep it practical, then this look is for you. Metallic pants paired with a silk blouse screams sophisticated glam.  These pants are so versatile and will take you from day to night, pair them with a black turtleneck or sweater and sport them to the office.  Date night on the schedule try wearing this silk blouse with a pair of denim and heels for a casual but sultry feel. With these two pieces the options are endles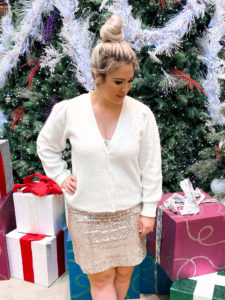 Soft Glam – Sequins and Sweaters -Joe Fresh
Major ballerina vibes with this style, and what I like to call soft glam.  This sequin skirt and tank will get you noticed, but when paired with this delicate cardigan it instantly softens the look. I love the detail on this cardi, from the puffy sleeves, to pearl buttons, it truly adds a feminine touch to any style.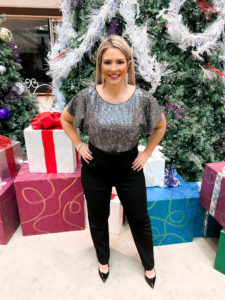 All in Glamour – Sequin Suit -Melanie Lynne
Add instant rock star glamour to your look with this sequin belted jumpsuit. The elegance of an evening dress meets the comfort of a pant suit.  This look is so on trend and will have glittering at any social gathering, from a cocktail party to a wedding this look is so versatile and will be a closet staple for years to come.  Complete the looks with chandelier earrings for the ultimate bling bling.
Casual Glamour – Leisurely sophistication -Laura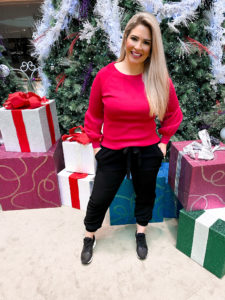 Leisure wear sure has come a long way and is no longer just for lounging at home.  Who would ever know these pants are part of Laura's new leisure wear line.  Comfort and style, you'll definitely be living in these bottoms!  I played up the dressiness of these pants by pairing them with this pink balloon sleeve sweater, to punch up that casual glam were all in need of to cap off 2020.