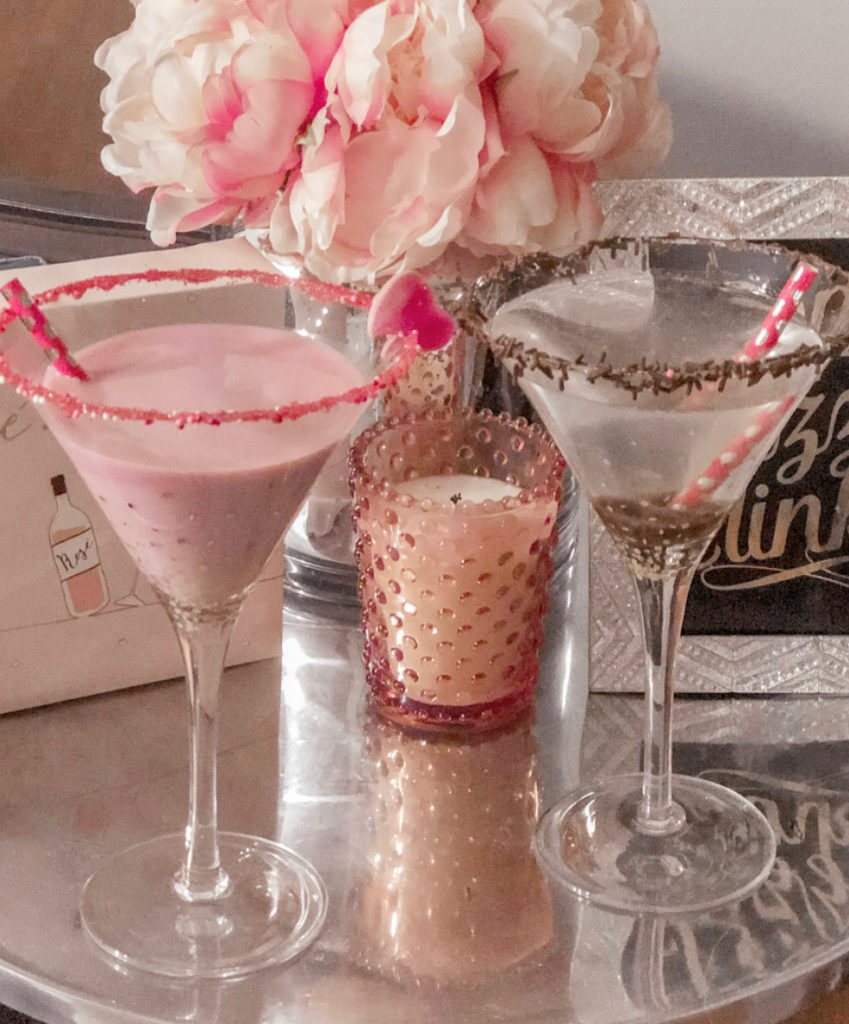 Lifestyle/Entertaining
Valentine Drinks and Desserts
February 14, 2019
I always say the only rose you need on Valentine's Day is Tequila Rose! This is honestly like Valentine's Day in a bottle. It's a tequila based creamy strawberry liquor that's bubble gum pink…could it be any cuter! Not only does it taste delicious on the rocks or in your coffee it also pairs so well in so many deserts. I also recently discovered 360's decadent Double Chocolate Vodka which is also a Love Day hit! Here are a few of my favourite recipes that you must try.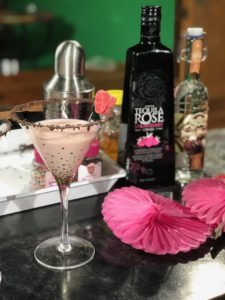 Chocolate Strawberry Kiss
Ingredients
1 oz Tequila Rose

1 oz Double Chocolate Vodka

½ oz Simple Syrup

Strawberries Muddled
Directions
Rim a martini glass with honey then sprinkles to allow it to stick. Mix all ingredients in a shaker together over ice and serve. If you find it too strong you can add a little milk or coconut milk.
Tequila Rose Cupcakes
Ingredients
Directions
Preheat oven to 350°F, prepare 2 muffin tins with cupcake liners. Whisk together butter and sugar. Mix in the eggs, milk, tequila rose, sour cream and vanilla. Sift together the baking powder, salt and all-purpose flour. Fold the dry ingredients into the bowl of wet ingredients until the cake batter forms. Fill the cupcake liners ¾ full and bake for 20-25 minutes, until tops are done and light golden.
Tequila Rose Icing
Ingredients
½ cup butter softened

½ cup shortening

4 cups powdered sugar

3 tbsp Tequila Rose
Directions
Blend together butter and shortening with a mixer until smooth. Add 1 cup of powdered sugar and tbsp of Tequila Rose, and whisk until smooth. Continue to add 1 cup of powdered sugar and 1 tbsp of Tequila Rose and whisk together, until add last cup of powdered sugar and vanilla. Add a few drops of pink if desired more pink in color.
Chocolate Covered Strawberry
Ingredients
Directions
Rim a martini glass with honey then chocolate sprinkles. Add a dollop of chocolate syrup to the bottom of the martini glass. Shake the vodka and simple syrup on ice. Add the the glass and top up with Strawberry flavoured soda water. Add a strawberry to the side of the glass.
Double Chocolate Vodka Brownies
Ingredients
2 ounces unsweetened chocolate in pieces
Directions
Preheat oven to 350°F, line or grease with butter and flour a small cupcake baking tin for mini bite sized brownies. In a small saucepan combine sugar, vodka, and unsweetened chocolate. Cook over medium low heat until chocolate is melted. In a separate bowl combine together flour, cocoa powder, chocolate chips, baking powder and salt. Mix until combined. Add in eggs, vanilla and oil, mix then pour in melted chocolate and stir until combined. Pour mixture into bite sized pans and bake 25-30 minutes until center is cooked.
Double Chocolate Vodka Ganache and Fondue
A chocolate fondue is perfect on Valentine's Day. And why not spike your fondue with a little double chocolate vodka. Simply add a few shots to your melted chocolate and serve. Also makes a nice chocolate topping with brownies and ice cream, or serve over fresh waffles with strawberries.
Enjoy Xx