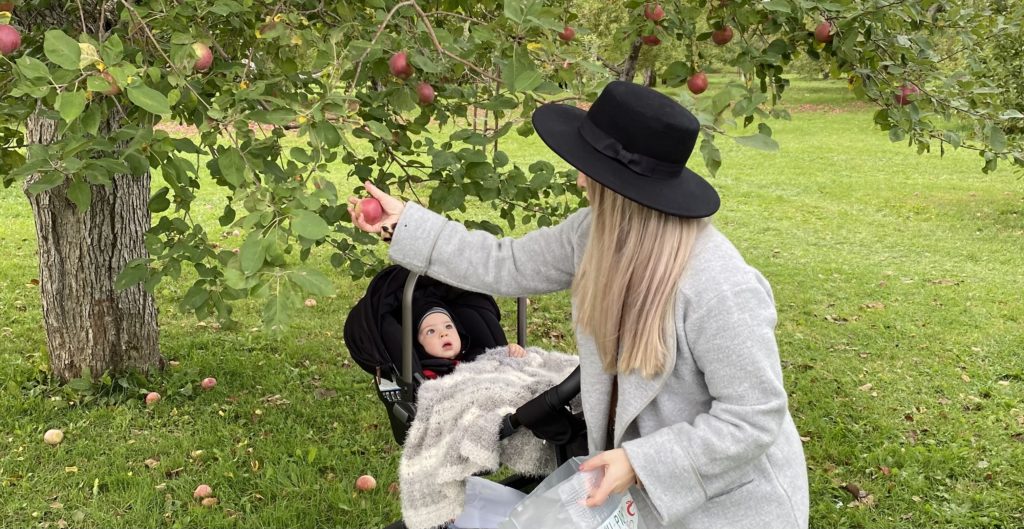 Baby/Mom Life
All About Apples
October 6, 2020
Fall is a fabulous season to get outside with the family.  From the crisp air to the vibrant colours from the changing leaves there is so much beauty all around. What makes autumn even more spectacular is the endless amount of cozy fall activities you can do together with your family for little to no money.  Here are a few of our favourite things to check out this fall.
Apple Picking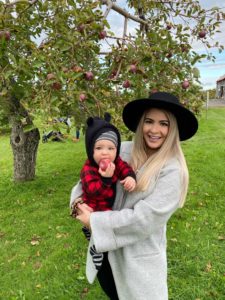 It's apple season in the city and it's the perfect adventure for you and your family. With over a dozen orchards to choose from in the Ottawa area the options are endless. This is the perfect way to spend your afternoon outside in the fresh air enjoying an apple or two and spending quality time together outdoors.  Make sure you bring your own bags, a good pair of shoes and your camera to snap those picturesque scenes from the orchard. Luca loves apples it's one of his first foods and favourite to date. Not sure what to do with all those apples….here are some of my favourite apple recipes! I love to cook and bake using Nutiva Coconut Oil.  They're products are clean and a perfect replacement for butter or vegetable oils.  I love that they're all  Organic, Keto Certified, gluten-free, vegan, and non-GMO Project Verified…what's not to love.  They're also very versatile and can be used for cooking, baking, stir frys, sautéing and so much more!
Baby Apple Sauce
This is truly the simplest way for babies to enjoy apples. I like to use sweeter apples like Pink Lady or Honeycrisp, but the option is truly up to you. Wash, peel and cut the apples into cubes.  Add to a pot full of water and bring to a boil until apples are nice and soft.  Let cool then blend all the apple pieces in a blender until nice and smooth.  Serve chilled or however your baby likes it.  The applesauce does last a few days in the fridge, but I like to freeze it in an ice cube tray and keep for days to come.  It also makes a great purée to add to baby popsicles especially if they're teething!
Gluten Free Apple Crisp
What's better than apple pie…what about apple crisp! This is one of our favourite guilt free deserts to enjoy on a cozy fall day.
Ingredients
-4 large apples (seeds and stems removed)
-2 tsp fresh lemon juice
-2 tsp cinnamon
-2 tbsp. coconut sugar (can use brown sugar)
-1 cup gluten free rolled oats
-1/2 cup oat flour
-1/4 cup monk fruit (can use sugar or sugar substitute of your choice)
-4 tbsp. Nutiva coconut oil
-1/2 tsp Pure Vanilla Extract
Preheat oven to 375 F. Slice your apples into wedges remove seeds and stem and place into a large bowl with lemon juice, coconut sugar, and 1 tsp of cinnamon. Toss together and coat and set aside. In another bowl place all leftover ingredients together and crumble together with your hands until combined. In a large baking dish, place coated apples on the bottom and top with the crisp topping by sprinkling it over the apples. Bake 45-60 minutes until the topping is browned. Remove and serve with your favourite vanilla frozen treat.
Butternut Squash Apple Soup
Ingredients
-1 butternut squash
-5 apples peeled and cored
-1 small onion chopped finely
-garlic
-1 can coconut milk
-4 tbsp Nutiva coconut oil
-1/2 tsp cumin
-1/2 tsp paprika
-1/4 tsp cinnamon
-1 cup vegetable broth
-Salt and pepper
Bake squash until cooked thoroughly.  In a saucepan with water add apples and boil until nice and soft, drain and set aside. In a separate saucepan cook onion with 1 tsp of coconut oil, once browned add in 2 cloves of garlic, cumin, paprika and cinnamon.  Combine the cooked squash, apples and onion mixture in a large pot and cook on medium heat. Stir in ½ cup vegetable broth and pulsate soup mixture with an electric hand blender.  Once nice and blended add in the remainder of the broth, coconut milk and coconut oil.  Continue to heat and serve, adding salt and pepper to taste.